I bought my first Norwegian Forest Cat in the year 2000 over the Internet from a Spanish breeder as I was looking for a different type of cat and the photos I had seen together with the description of the temperament of this breed had charmed me.
Eros traveled alone from Madrid at the age of 5 month and on top of the many flight hours, he also had to endure 10 hours at Ezeiza Airport until Customs released him over to me.
I was afraid that after such an ordeal he would be angry and irritated in the carrier, but what I saw instead was splendid, a pair of oblique and serene green eyes looking at me through the door of his carrier filling me with such joy and pride: he was a gorgeous kitten. On our way back home his paws kept trying to reach me and his melodic voice demanding caresses.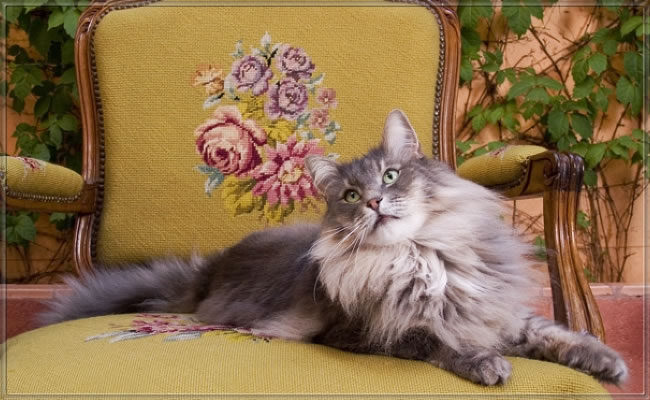 GIP Eros Artemisa*ES - LO AFA 1/9/99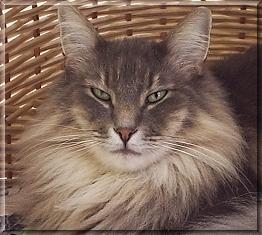 Eros - primer Bosques de Noruega en Argentina
At the end of 2003 together with Iris Salvay, we decided to found the first cattery of thisbreed in the country which we named "Bosques Vikingos", and we started a breeding program with the matings of Ikebana and Macbeth and then Ikebana and G-Raspa who gave us eleven beautiful kittens.
In March 2005 we gave away our prefix to Mrs. Iris Salvay together with two of our first cat's litter: Aventura and Astor then, we started a new one with the prefix "Corazón Salvaje".
The experience gained through this time and from the kittens we saw growing up in our home, taught us which are the criteria to work on and the breeding program we would like to follow in order to develop the Norwegian breed in Argentina.
We would like to thank Maribel Lerones and Carmen Hierro, who have given us and still give us their support and knowhow and expertise of over 12 years of breeding Norwegian Forest Cats in Spain, to them and all the breeders, a big hug and as Carmen and Maribel use to say "a norwegiankiss".
Lic. Diana Furtado
Julieta Terrazas Magne